Add Beauty & Value to your Home with Red Brick or Interlocking Concrete Pavers
Stonework & Masonry Green Valley, AZ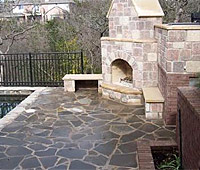 Are you looking for expert stone masons who can build your dream outdoor features? Look no more. At Brick Pavers Specialist, we have lengthy experience in stonework and masonry and we have worked on a lot of projects in Green Valley, Tucson, Oro Valley, Marana, Sahuarita, Catalina Foothills, Casas Adobes, Drexel Heights, Valencia West, and Vail, AZ. Our clients include owners of commercial and private properties across Arizona, and we continue to be the one company that they trust for such needs. Please call us now to get more information on our specialized services.
At Brick Pavers Specialist, we can work on practically all kinds of stonework and masonry projects that valued Green Valley clients may need help with. Among the tasks that you can hire us for include: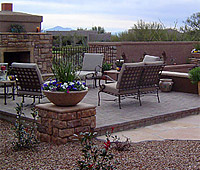 Patios. Natural stone pavers are perfect materials for patios. Whether you want a nature-inspired one or you wish to have an Old-World theme instead, we can achieve the look that you desire.We can also include your desired amenities, such as lounge chairs, a fire pit, or an outdoor sofa set.


Decks. Pool decks and viewing decks are two of the best additions to any landscape, and we can build you the decks of your dream. We can use permeable pavers for pool decks or granite for viewing decks for elegant appeal.


Walkways. There is no better way to walk around your property than by treading a gorgeous and stunning walkway. We can use your desired materials to build your dream walkway – concrete, natural stone, or pavers.


Outdoor living spaces. Do you want to improve the value, functionality, and beauty of your property? We can help you do just that by using premium natural stones on your outdoor living areas, such as gazebos, sitting walls, fireplaces, outdoor kitchens, and many others.
Why Go For Stonework and Masonry?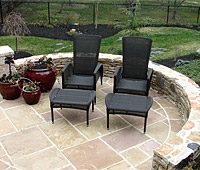 We can cite several great reasons why you won't regret investing time and money in stonework and masonry features. First is that you and your family or guests stand to enjoy the elegant beauty of natural stones that are usually used to create masonry pieces. Additionally, these are excellent investments that will increase the market value of your property, whether you intend to sell your property or not. Next is that they will improve your landscape's functionality, making it a more livable and inviting piece of real estate. Features such as patios, outdoor kitchens, and sitting walls ensure that you and your loved ones and friends will always have a great time outdoors.
Great Masonry Services that You Can Afford
Aside from our expertise in stonework and masonry, clients in Green Valley, AZ and nearby cities will surely find our competitive service rates absolutely irresistible. In fact, we have among the lowest rates in all Arizona-based companies offering such specialized service. So even with a limited budget, you can still avail our professional service.
If you want to have truly outstanding stonework and masonry features in your property, then trust no other company but us. We value clients' desires and strive to achieve their dream masonry pieces using only the finest materials available. Please call us now at (520) 780-0380 for more details on our services.