Add Beauty & Value to your Home with Red Brick or Interlocking Concrete Pavers
About Us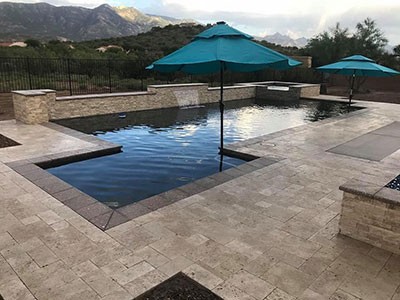 The unique appeal of pavers makes them the perfect materials for all outdoor features and amenities. A paver pool deck, for example, can transform the pool area into an elegant and more appealing space. They are also the most preferred materials for other outdoor living spaces such as patios and outdoor kitchens. If you want to make your outdoors more appealing, then choose pavers as the primary materials for your project. But don't forget to choose experienced paver installers to ensure quality installation of your outdoor amenities.
Our use of premium pavers will also ensure the longevity of the outdoor features that we create. We have partnerships with leading paver suppliers and manufacturers, so you are assured that only the best pavers are used in your project. We also have a great collection of paver designs, so achieving your desired theme is easy for us. We can use customized designs or traditional patterns, such as herringbone, fan, circular, or basket weave. We can also come up with the specific theme that you desire such as old world, modern or contemporary.
At Blue Ribbon, Brick Paver Specialist, our crews can help you design and build various outdoor features in your property. We have the best paver installers in our company, so you are assured of topnotch installation or construction of your chosen features. Our completed projects in Oro Valley, Tucson, Sahuarita, Marana, Green Valley, Catalina Foothills, Casas Adobes, Flowing Wells, Summit and Tortolita, AZ are just some examples of our outstanding creations. Please call us soon so we can discuss with you how we make outdoor spaces more appealing, comfortable, and functional.