Add Beauty & Value to your Home with Red Brick or Interlocking Concrete Pavers
Stamped Concrete Sahuarita, AZ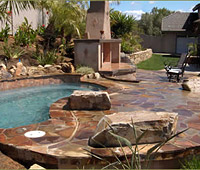 The use of concrete flooring is shunned by some property owners because of its dull and plain look. But with today's technology and recent development in the construction industry, a plain-looking concrete can now be turned into elegant and attractive flooring. You just have to look for the right people who know how to transform this surface into a work of art. And here at Brick Pavers Specialist, we have the experience and capability to dramatically improve the look of your concrete floors. We have been creating outstanding landscape installations for clients in Sahuarita, Green Valley, Tucson, Oro Valley, Marana, Catalina Foothills, Casas Adobes, Drexel Heights, Valencia West, and Vail, AZ. We use different decorative concrete methods, and our most popular and highly recommended is stamped concrete. This is a cost-effective method but provides great results.
Please contact us now so we can discuss further the various options for your concrete flooring. Our staff will also assist you in choosing the best design or pattern that will best suit your needs and design taste. You may call us at (520) 780-0380 or you can drop by at our office during your most convenient time.
Stamped Concrete Experts in Arizona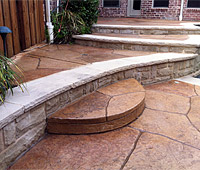 At Brick Pavers Specialist, we have in our team some of the best masons in the state who have worked on numerous stamped concrete projects before. Our experience is not only limited to residential projects since we also accept concrete works for large commercial properties. Our extensive experience in this field of concrete work has made us versatile workers. Today, we can handle with great ease and accuracy any project that requires concrete stamping.
You can also rely on us when it comes to choosing the most appropriate pattern or design for your concrete flooring. We will make sure that it will complement with your home's architecture or the overall design of your building or commercial space. We can even work on projects with complex design requirements, such as custom stamping and the use of mixed stamping patterns. And we're proud that all of our completed stamped concrete projects in Sahuarita and nearby areas have made our clients' properties standout in terms of aesthetics and functionality.
Complete Stamping Tools and Resources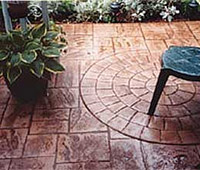 We consider every concrete surface that we work on as a masterpiece. That's why we invested a lot in masonry tools and other stamping equipment. We also have partnerships with some of the leading suppliers of stamping products. From the stamped concrete patterns that we use to concrete color and sealers, you can be sure that they are of premium quality.
Some of the great patterns that you can choose from include:
cobblestones
slate
wood
bricks
stones
pavers
tiles
custom patterns
Stamped Concrete Specialists in Arizona
If you want a low-cost method of improving your flooring's aesthetic appeal, go for stamped concrete. With the various stamping patterns that we use, we can effectively mimic the look of natural stones, bricks, wood, and other types of materials. Call us now at (520) 780-0380, so we can discuss with you other great options like paver installations that we offer for Sahuarita, AZ clients.