Add Beauty & Value to your Home with Red Brick or Interlocking Concrete Pavers
Landscaping Services Summit, AZ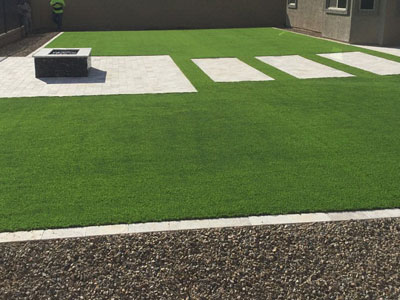 Landscaping your home or commercial property comes with numerous benefits. Aside from creating a natural, beautiful and peaceful surrounding and atmosphere, landscaping actually raises the value of your property and, in most cases, it doesn't even have to cost a fortune. Brick Pavers Specialist offers a full range of landscaping, landscape design and installation services for our customers in and around Summit, AZ. Our areas of expertise extend beyond landscaping to include stonework & masonry, artificial grass, landscape lighting and more. From concept to completion, we work with you to create distinct, quality outdoor spaces that fit your lifestyle.

Our landscape design team can come up with personalized designs that are not only stunning but also functional and sustainable. We use modern design tools, so we can easily incorporate your ideas and preferences. We are capable of installing all kinds of landscape features and amenities and we have the experience to do so. We are one of the very few companies in AZ that can offer affordable landscaping rates. Most clients choose us because of our proficiency and lengthy experience in the landscape industry, as we use our full resources to ensure top-quality workmanship and faster completion of our projects.


Landscape Installation & Design Services
There are a number of different features that need to be used in the right proportion in order to create a well-balanced and aesthetically appealing landscape. Aside from the masonry elements which are referred to as hardscapes, every landscape and also have a number of plantings and lawn areas. Among the crucial elements include lighting, irrigation, layouts and a whole lot more. Just thinking about all these will surely make your head spin. Landscape installation entails a huge amount of work and time. If you live in Summit, AZ, Brick Pavers Specialist is the perfect landscape installation company that can help you create the right landscape design to provide a dramatic change in your yard. You can just sit around and relax because our highly qualified and trained professionals will take care of your garden, using only the highest quality materials and tools.

With many years of experience behind us, we have the knowledge, resources as well as the skills and creativity to create unique landscape concepts. Our focus is on creating outdoor spaces that are functional, durable and sustainable. From hardscapes and outdoor living amenities such as patios, decks, fountains, water features and fire features, to softscape design and planning, we will design your outdoor area and install all the materials in a correct and proper way.


Landscape Lighting Services
Installing landscape lights on your property is a great way to enhance the appeal of the various features in your landscaping. Regardless of whether you are enjoying some leisurely moments with your family or entertaining guests, it's important to ensure that the outdoor living areas of your home are well illuminated.
There are many reasons for adding automated lighting fixtures to your outdoor area. For one, the security of your home may be compromised at night if you don't have lights installed. Also, it can be quite dangerous trying to walk outside in the dark. By installing landscape lighting fixtures, your family and guests won't have trouble navigating your outdoors at night time. Lastly, landscapes are meant to relax the mind and body. Having lights installed will provide your outdoor area enough illumination that will allow you to appreciate its beauty even at night.

Landscape lighting plans involve much more than just installing a few lampposts. Once our designers have got a clear understanding of what your specific requirements and ideas are, they will survey the place methodically. Based on the features that already exist in your landscape or which are to be installed there, our experts will devise exterior lighting plans and will get right to work. Also, even if it's always great to have well-illuminated outdoor spaces, you want to ensure that these features aren't consuming excessive amounts of energy. The energy-efficiency aspect is something that we keep in view at all times.


Best Landscapers in Summit, AZ
From concept to completion, we work with you to create distinct, quality outdoor spaces that fit your home, lifestyle and vision. If you are from Summit, AZ, or its surroundings, call us today at (520) 780-0380 and ask us about our professional landscape design and installation services!