Add Beauty & Value to your Home with Red Brick or Interlocking Concrete Pavers
Landscape Contractor in Scottsdale, AZ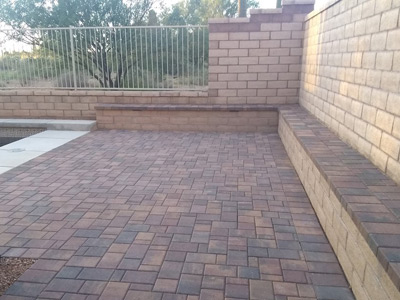 Landscaping is a delicate fusion of artistry and scientific precision. When envisioning your outdoor spaces, the expertise of an experienced landscape contractor in Scottsdale, AZ, is paramount. At Blue Ribbon, Brick Pavers Specialists are proud to be the preferred choice for landscape excellence in the region.

As an all-service landscaping company, we offer a comprehensive range of solutions, including landscape design, landscape installation, and hardscape installation. Committed to innovation and quality, our team transforms outdoor spaces into living works of art.

From envisioning captivating designs to bringing them to life with precision, we create landscapes that reflect your unique vision and elevate the beauty of your surroundings.


Range of Landscaping Services
Choose us for unrivaled expertise and artistry that leave a lasting mark on your landscape with these services:


Custom landscape design services - Discover a world of imaginative possibilities with our creative landscape design services. Our team of skilled designers transforms outdoor spaces into captivating realms that mirror your vision. Each design is a canvas where aesthetics and functionality coalesce, ensuring every element harmonizes with the surroundings.

We meticulously blend plants, hardscapes, and features to craft a unique narrative that reflects your style. Our designs breathe life into your aspirations, from modern minimalism to a lush oasis. Elevate your outdoors with our artistic prowess and let us shape landscapes that transcend the ordinary and embrace the extraordinary.


Precise Landscape Installations - Our landscape installations are ideals of precision and excellence. With meticulous attention to detail, we bring your envisioned outdoor haven to life. Our skilled team orchestrates every element with unwavering accuracy, ensuring plants thrive in their designated spots, hardscapes align flawlessly, and water features enchant with their grace.

Our dedication to perfection shines through from the initial layout to the final touch. Our expertise transforms your landscape into a seamless masterpiece where every component finds its perfect place. Experience the culmination of meticulous planning and skillful execution with our precise landscape installations, a testament to our commitment to crafting outdoor sanctuaries that transcend expectations.


Inspired Hardscape Design and Installation Services – We provide inspired hardscape design and installation services. Our team specializes in crafting hardscapes that redefine outdoor living. With a fusion of creativity and technical expertise, we curate spaces where form meets function seamlessly. From intricate paver patterns that lead the way to inviting patios that beckon relaxation, our designs are a symphony of aesthetics and practicality.

When you hire us, you get thoughtfully designed pathways, captivating retaining walls, and stunning outdoor kitchens. With our dedication to detail, we shape hardscapes that enhance your landscape and become extensions of your lifestyle. Elevate your outdoor experience with our unparalleled hardscape craftsmanship.


How You Benefit from Our Landscape Contractor Services
At our core, we specialize in both new landscape projects and the art of renovation and upgrades. Our team possesses the expertise to craft fresh landscapes or breathe new life into existing ones. From envisioning pristine green spaces to revitalizing outdoor sanctuaries, we tailor every project to your desires.

Our hardscape and landscape planning ensures a seamless integration with your outdoor living areas, creating a harmonious extension of your lifestyle. With a dedication to excellence, we execute projects that resonate with your vision, be it a bold transformation or a subtle enhancement. Experience the journey of elevating your outdoors with us.

From selecting the proper flora to implementing efficient irrigation, we curate landscapes that enchant the eye and sustain the environment. Trust in our mastery to orchestrate your outdoor dreams with a harmonious blend of artistic flair and scientific understanding.

For additional details about our landscaping services in Scottsdale, AZ, please call Blue Ribbon, Brick Pavers Specialist on 520-780-0380. You can also email us through this Online Form, and one of our team members will contact you soon.